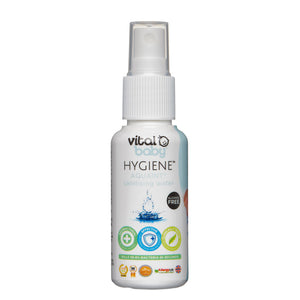 Vital Baby Aquaint is a multipurpose, 100% natural antibacterial Sanitising Water that kills 99.9% of bacteria in seconds.
It contains no alcohol or other harsh chemicals, no fragrances, no preservatives and can be safely used on the hands and body (from birth) and on surfaces (even on items that go in the mouth) with no need to rinse.
As a travel companion, Vital Baby Aquaint provides a parent with a SINGLE unrivalled level of hygienic peace of mind for a multitude of application uses.
Vital Baby Aquaint can be used just like water to sanitise little hands and skin, public changing tables, high chairs, dropped dummies, feeding bottles, teething rings, dropped toys or even the dropped apple!
A unique and safe Sanitising Water the kills 99.9% of bacteria!
Contains NO alcohol or harmful chemicals
Safe to swallow!
Can be safely used on the body (from birth)
Can be used on hard surfaces
Can be used on surfaces that come into contact with a baby's mouth
Perfect to sanitise soothers, teethers and feeding equipment when at home or when out and about.
Perfectly safe to be handled by children without adult supervision.
Endorsed by Allergy UK and is suitable for people with allergies or sensitive skin.
Vital Baby Aquaint has passed stringent UK drinking water tests
Suitable from birth