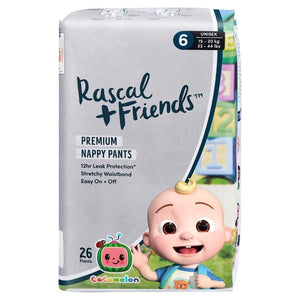 Seriously good nappies that got you covered for life's messiest moments! 

Rascal + Friends nappy pants are made to move in, made to power through the night leaks in, are free from nasties, dermatologically certified and perform exceptionally. 
Stretchy High Back Waistband
3 Layers of Protection
Soft Leg Cuffs
Breathable Outer-Layer
Wetness Indicator
Absorbent 3D Core
Unique Deep Pocket
Double Leak Guards
Strong Grip Tabs
*Cocomelon Limited Edition Nappy Print.