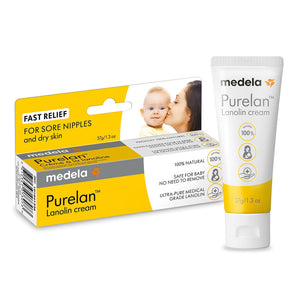 If you have dry, cracked or sore nipples, Purelan 100 lanolin nipple cream offers natural soothing care and protection. 
It consists of 100% natural wool wax (lanolin) and is ideal for the care of sensitive, sore nipples during breastfeeding. It helps to restore the skin's natural moisture balance and keeps the skin supple.
Purelan is so safe for your baby that it doesn't need to be removed before breastfeeding. Dermatologically tested, hypoallergenic and free from artificial additives and preservatives.
100% ultra-pure and natural medical-grade lanolin nipple cream
Helps reinforce your skin's natural barrier properties
Gentle & safe
Natural protection
Provides instant soothing relief for sore and cracked nipples
Soothes sensitive or dry nipples and is perfectly safe (hypoallergenic)
Removal not necessary before breastfeeding
Can also be used on dry skin
37 gram tube