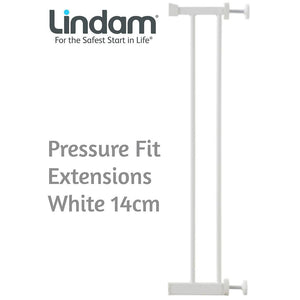 The Lindam universal sure shut extensions come in three different sizes; 7 cm, 14 cm and 28 cm. Available to extend the Lindam Easy Fit Plus Deluxe, Sure Shut Axis, Sure Shut Porte and Sure Shut Orto Safety Gates.

Can be combined to span a variety of opening sizes up to 117 cm wide.

It is important that you measure the opening of where you want to install your safety gate correctly; always measure from the narrowest point, typically skirting to skirting.

View the extension installation guide to select the right extensions for your opening.

is NOT COMPATIBLE with the Easy Fit Plus Deluxe TALL.

Safety Warning: Never use this extension system without wall cups.