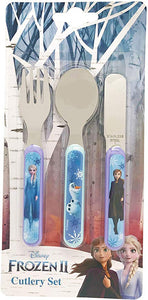 This set contains one 3 piece children's metal cutlery.
Recommended for children from 12 months

TAKE CARE
Wash in warm soapy water, rinse in hot water and air dry before using for the first time and after each use.
Do not use abrasive or solvent based cleaning agents as this may cause damage.
Not suitable for use in a steam steriliser, microwave oven or normal oven.
Store out of direct sunlight.

WARNING
Always use this product with adult supervision.
Before each use, inspect the product.
Throw away at the first sign of damage or weakness.
Always check food temperature before feeding.