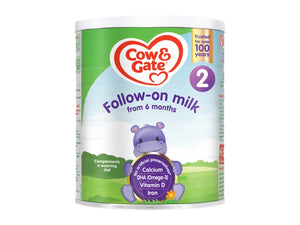 Cow & Gate Follow-on milk is enriched with important nutrients to support your little one's nutritional needs, from when they start their weaning journey right up until their first birthday. It contains Iron to support normal cognitive development and DHA (Omega-3) to support normal visual development.
Compliments a Weaning Diet
No Artifical Preservatives
Calcium, DHA (Omega-3), Vitamin D & Iron
Safety Warning: Breastfeeding is best for babies. Cow & Gate Follow-on milk should only be used on the advice of a doctor, midwife, health visitor, public health nurse, dietitian, pharmacist or other professional responsible for maternal and child care.
Use powder within 4 weeks of opening and store in a cool dry place.
Do not refrigerate.