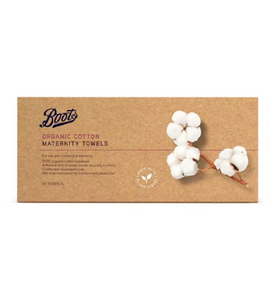 Product details
Boots maternity towels are extra-long and thick to cushion and protect. They are specially designed for use before and post pregnancy. The 100% organic cotton topsheet is super soft and because it's made from plant based fibres, we have used less plastic than standard towels.
Carry a pack with you on the go, put a couple of packs into your hospital bag and have enough at home to last the first four weeks. 
How to use
For hygiene reasons, change pads frequently. To dispose: wrap securely in a sanitary disposal bag (or other suitable bag) and dispose with non-recyclable waste.