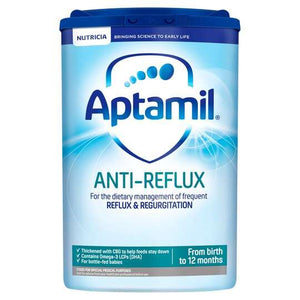 Product information:
Aptamil Anti-Reflux is a food for special medical purposes for the dietary management of frequent reflux and regurgitation. It is a nutritionally complete, thickened formula containing carob bean gum and a blend of Galacto- and Fructo-oligosaccharides (scGOS/lcFOS in a 9:1 ratio). Aptamil Anti-Reflux is suitable from birth and as part of a weaning diet from 6 months.
All Aptamil products carry preparation instructions, please see packaging for further information.

As Aptamil Anti-Reflux is a thickened formula, a single hole fast flow teat is recommended.

Baby's stools may change consistency when using this formula, this is completely normal.
Storage: Should be stored in a cool, dry place; do not refrigerate, and use contents within four weeks of opening.